The proliferation of invasive plants is a challenge along all of Austin's creeks. Birds flying through these spaces drop seeds of plants that are not native to the area, and rain washing across landscapes also introduces these seeds and berries. Common invasive landscape plants such as Nandina and Ligustrum crowd out the native plant species that support local flora and fauna. Area environmental groups sponsor work days where the community can volunteer to remove these invasive plants helping to restore local ecosystems.
Volunteers remove invasive plants on the Barton Creek Greenbelt as part of National Public Lands Day.
Save Barton Creek Association
The Save Barton Creek Association is one of Austin's oldest environmental advocacy groups founded in 1979. These photos document a work day where participants removed invasive Nandina along the greenbelt as well as picking up trash left behind by others. Learn more about the Save Barton Creek Association and become part of the solution.
Courtesy Save Barton Creek Association
Volunteers receive instructions from organizers of the event.
Courtesy Save Barton Creek Association
Workers carrying orange weed wrenches head into the greenbelt. These orange weed wrenches pull the plants out including the roots. You can see one in action in the video above. Plants like Nandina will grow back if the roots are not removed along with the visible parts of the plant.
Courtesy Save Barton Creek Association
A job well done. Check out the many Nandina plants in the bags. Removing invasive species is a labor intensive and the need on-going.
You can help curb the proliferation of invasive plants that find their way into the Barton Creek greenbelt and other natural areas. You can remove plants like Nandina and replace them with native plants. You can avoid purchasing invasive plants. This handy database will help you find plants native for your landscape.
Common invasive plants along the Barton Creek Greenbelt
Courtesy Sarah Larocca
Nandina. This ornamental bush that is indigenous to China and Japan can be seen in many yards in Austin. Birds and rain carry the berries into natural areas outcompeting native plants, disrupting indigenous ecosystems.
Courtesy Sarah Larocca
Balloon Vine. This invasive vine grows densely along creek banks. It competes with and smothers native vegetation.
Courtesy Sarah Larocca
Golden Bamboo. Introduced to the U.S. in the early 1880s, this common landscape plant is hard to eradicate.
Common native plants along the Barton Creek Greenbelt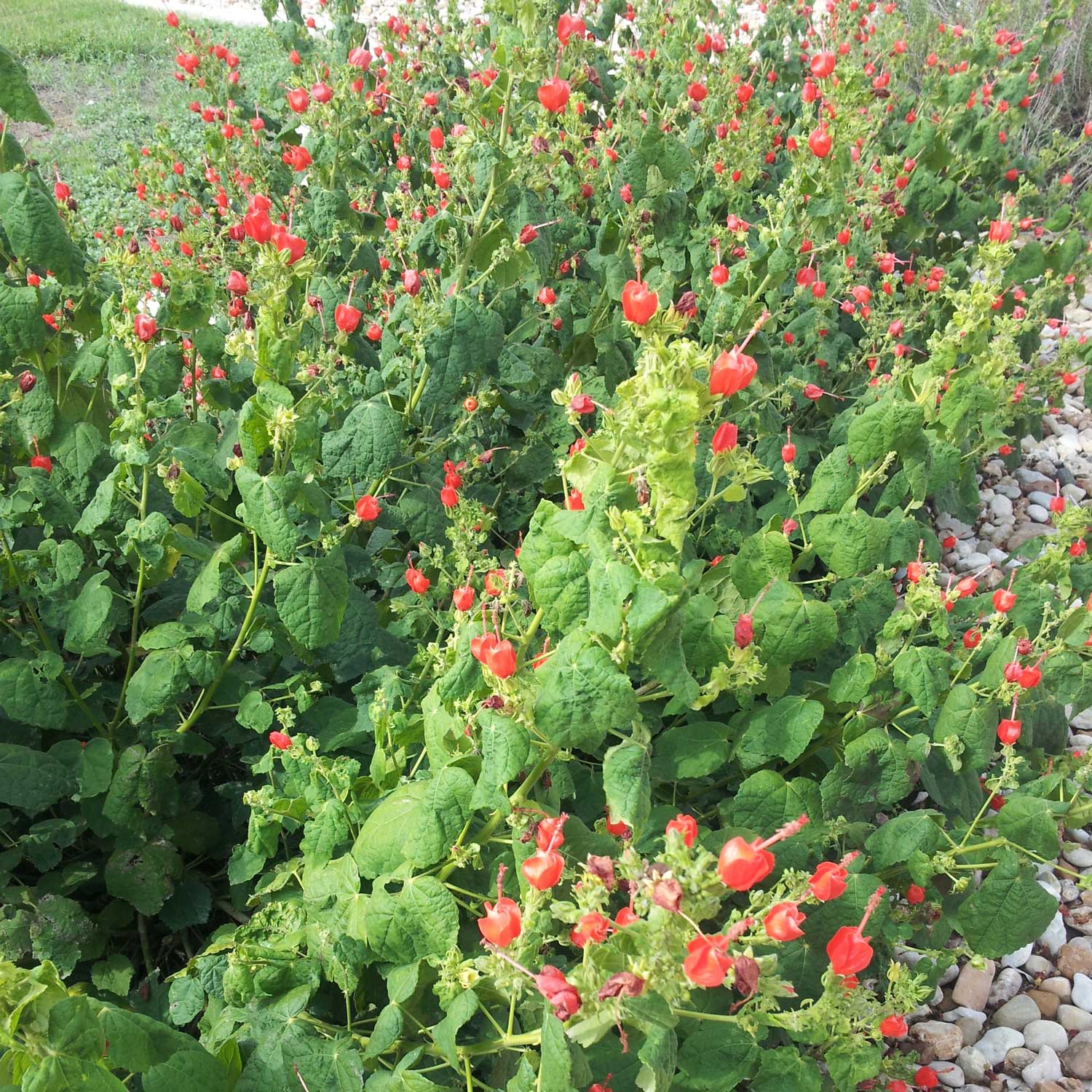 Courtesy Sarah Larocca
Turk's Cap. This native shrub has bright red flowers and does well in shady areas. Click here to learn more.
Courtesy Karen Kocher
Texas Mountain Laurel. This bush or small tree is famous for its scent when it blooms in early spring. Some say it smells like Grape Koolaid. Click here to learn more.
Courtesy Sarah Larocca
Red Buckeye. With deep red or yellow flowers in early spring is a beautiful landscape plant. Click here to learn more.