Mountain biking on Barton Creek
with Ryan Hostetter
Ryan Hostetter
"I grew up in Travis Country, a neighborhood right behind Sculpture Falls on Barton Creek. My parents used to bring 5-year-old me and my two sisters hiking down to the creek to swim at the falls and explore in the woods. This is where my love for the outdoors was cultivated. Since then I have been drawn to various outdoor activities and I owe a big part of that to my childhood days on the Greenbelt."
"I enjoy the natural and rugged landscape. Most areas where I get to ride my mountain bike, the earth has been hand-built and smoothly manicured for the purpose of riding a bike on it. The terrain at Barton Creek Greenbelt is simply the opposite of that. Lots of jagged rocks, roots, and steep inclines. Keeps me on my toes!"
Ryan Hostetter
"I like being fully immersed in the present moment and the natural world. When riding my bike through the Greenbelt I find myself ignoring/escaping my thoughts, frustrations, worries and cell phone. This allows me to tune in to my body, my bike, and the trails in front of me. I find that 'flow state' where I am focused purely on what is happening immediately in front of me."
"I can cover a lot of ground on two wheels. The Barton Creek wilderness area has many acres of rugged land which takes a lot of time and energy to cover on foot. In just one morning on the bike, I can climb almost every hill and get to see so many stunning overlooks and waterscapes."
"Covering a lot of ground on the Greenbelt means I run into a variety of wildlife. I've seen just about every creature that lives out there. Coyotes, porcupines, skunks, ringtails, you name it, I've probably seen it. I have encountered plenty of reptiles: rattlesnakes, coral snakes, salamanders, even an impressive 16-inch long Texas alligator lizard. I've seen several roadrunners, hawks, owls, and whippoorwills. I am lucky enough to have witnessed a beautiful red hawk dive out of the trees and swipe a mouse off the trail 50 feet in front of me, while I was pedaling my bike."
Ryan Hostetter
A salamander on the Barton Creek Greenbelt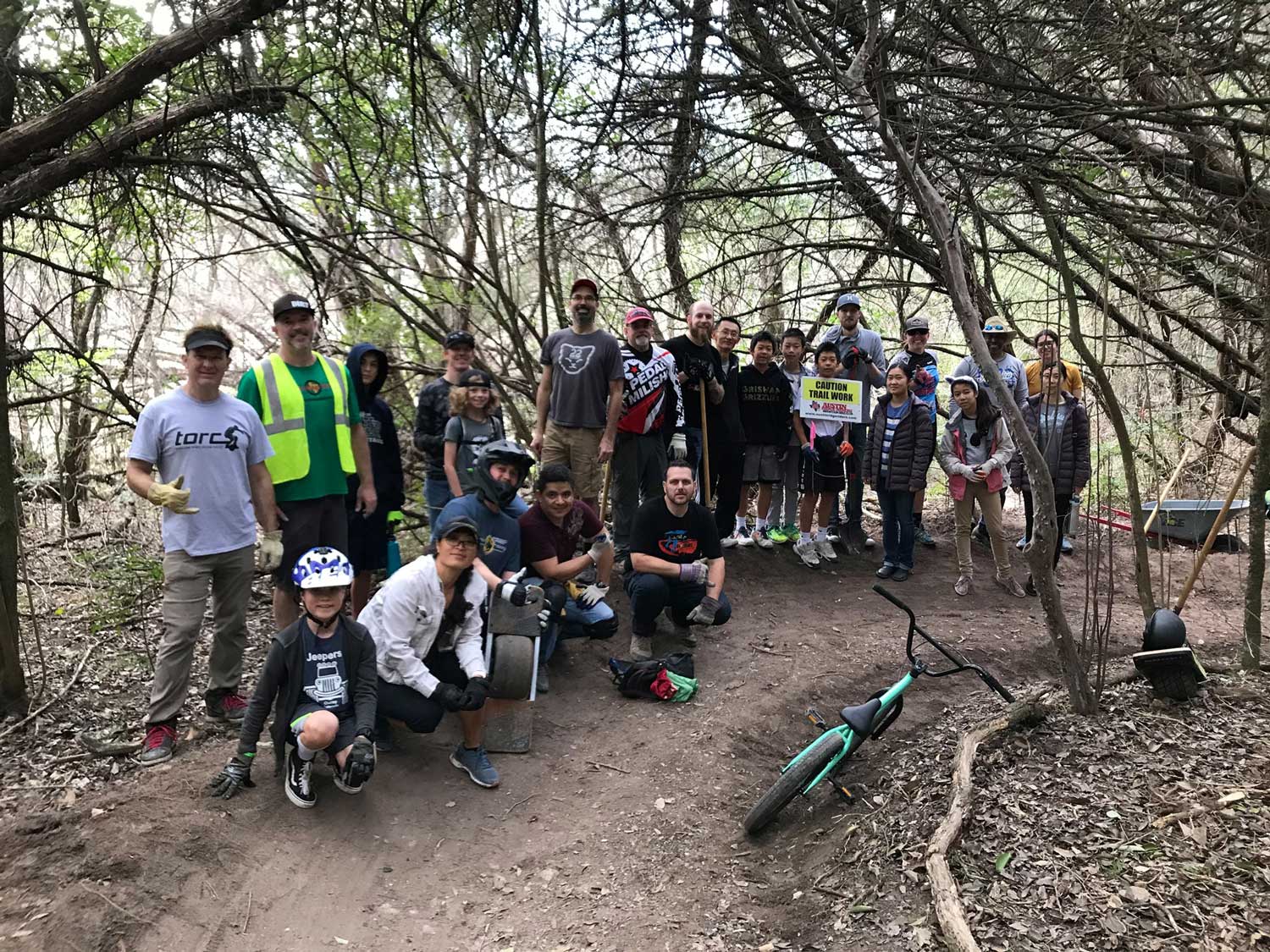 Members of the Austin Ridge Riders hard at work creating a new trail. Read more about this mountain biking advocacy group below.
"A strong mountain biking community ensures many positive impacts on wilderness trails. A few examples that I regularly encounter, and take part in include: trail stewardship, maintenance, volunteer work, erosion management, pickup/prevention of litter, and spreading general awareness of the importance and value of protected multi-use natural areas."
— Ryan Hostetter
Members of the Austin Ridge Riders construct a new trail.
The Austin Ridge Riders develop trails by promoting trail stewardship in cooperation with local land managers while working to improve mountain bike awareness and access. ARR brings people together to build a strong off-road cycling community.
A young rider tests out a new trail.
The ARR advocates and develops trails, leading weekly and monthly rides for all skill levels. ARR sponsors clinics to help riders improve skills, introduces kids to the sport, hosts races, and patrols the local trails to assist riders in need. Their club "Ride Like A Girl" welcomes more women into the sport. More on the Barton Creek Trails here.